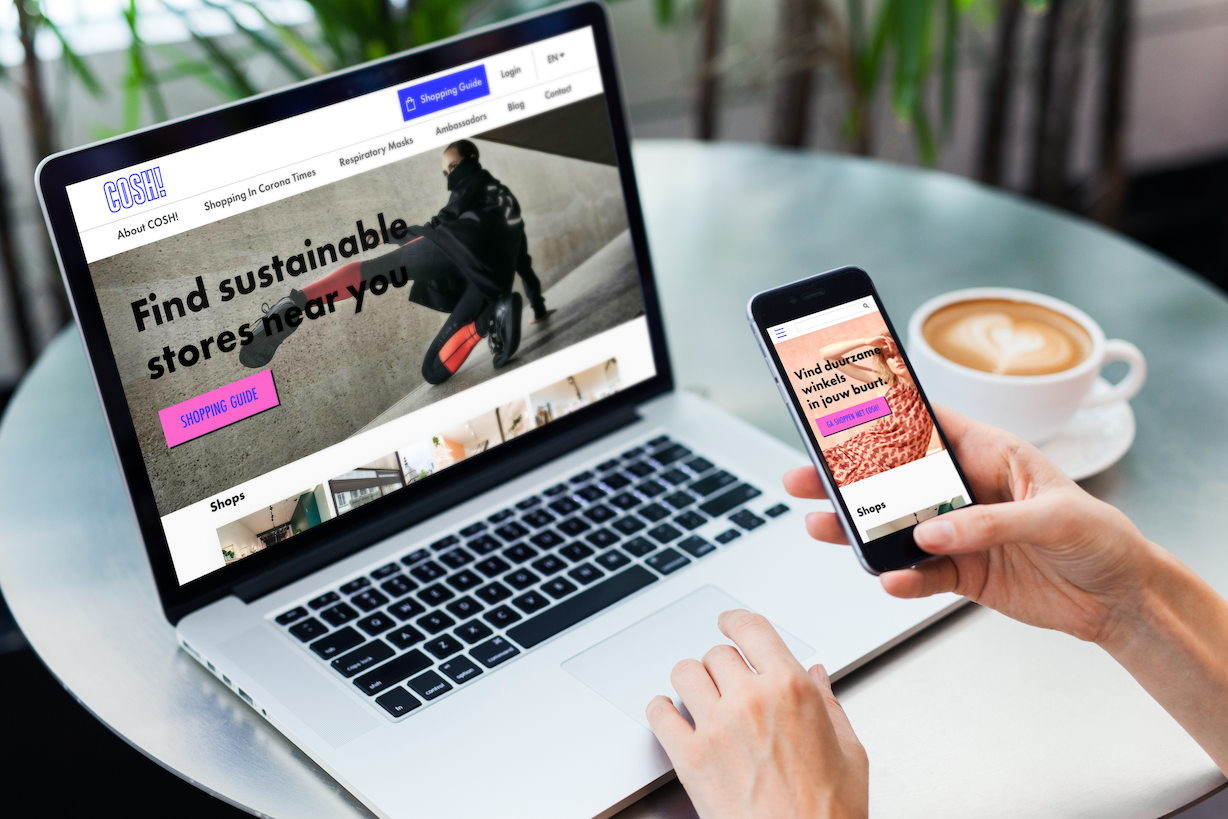 New homepage
What's new on COSH! A whole new homepage for starters! The new homepage highlights our shops, our blog posts, our press (thank you!), and our ambassadors (kudos!). Most of these items randomly switch every time someone surfs on COSH!. This way, each ambassador, store and advertiser gets shown just as frequently as the other. This means that shops in rural locations will get the same visibility via the homepage as shops in city centres (who are generally viewed more on the COSH! map because of their location).
Even more focus on finding sustainable stores near you
Find sustainable shops in your area! Promoting shopping locally has always been a core value of COSH!. We want to guide consumers towards more sustainable shopping choices at physical stores, whether they're shopping locally or going on a city trip. Especially since lockdown, we have been putting even more emphasis on the importance of shopping locally and supporting local business. Make sure to use the hashtag #COSHONA to flaunt your local sustainable purchases.
We have even designed our new homepage to promote local shopping even more. Use COSH! and discover the shops in your area.
Part 1 is now live, but the new platform will arrive at the end of the month.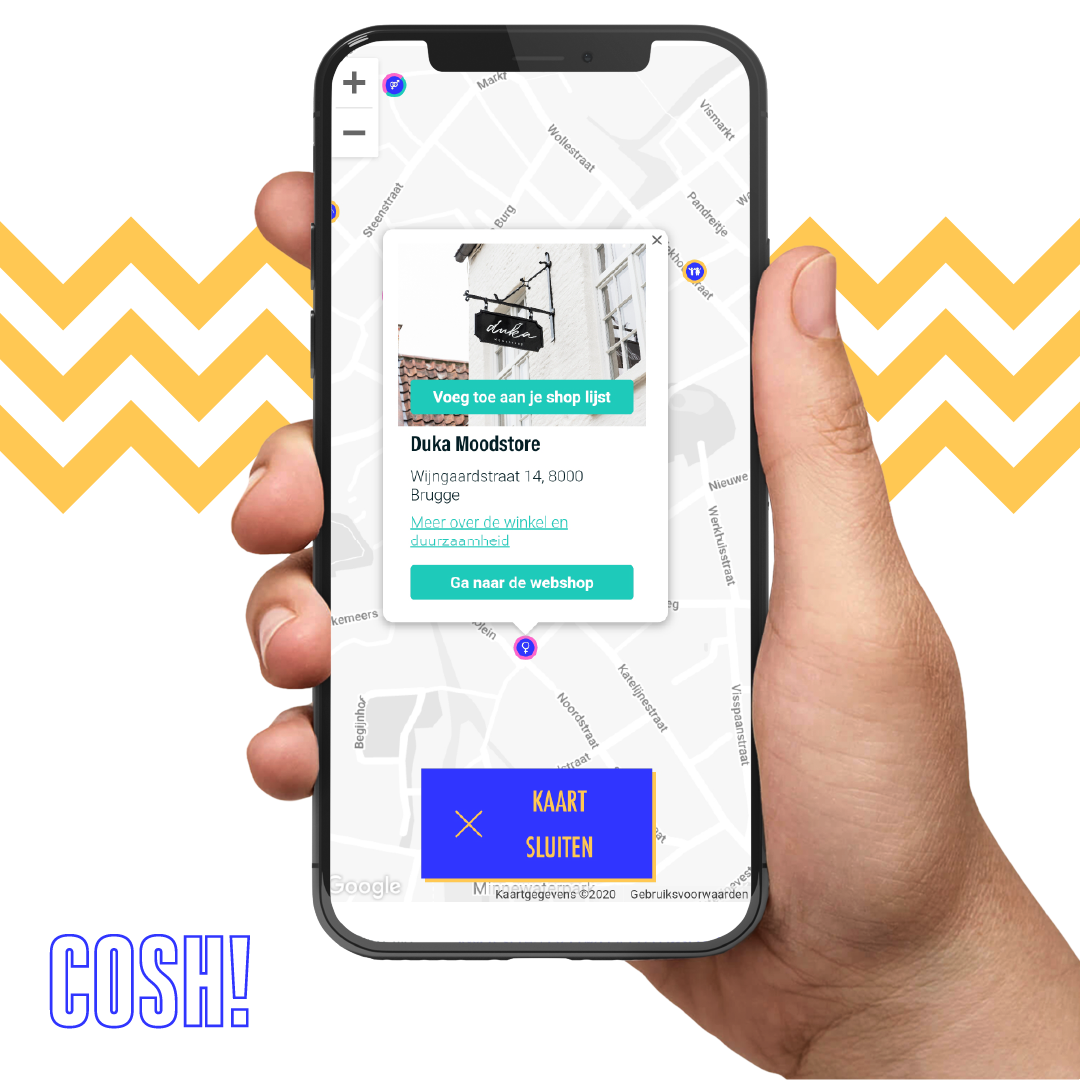 Online shopping
At COSH we strongly believe in shopping at physical retailers. However, with lockdown it was super important that you could all shop your locals online. Your local retailers needed your support more than ever, and by buying from them, you helped pay fair brands which helped their garment workers in these difficult times.
So it was a no-brainer to us to incorporate online shopping into the platform. On the main map or under the brand explanation, you'll discover a new shopping widget. You now have 3 choices:
Add a store to your (shopping trip) list
Find out more about a store's sustainability
Go directly to the webshop of your your local store
Have you discovered this new feature yet? It's been live since May.
New shopping route features
Once you have added a few shops to your shopping trip (now called list), you will be able to see all these shops, their webshops as well as their addresses. Your shopping trip is even corona-proof thanks to our new feature which avoids you making unnecessary trips… you can now select the day of your shopping trip and COSH! will then show you the opening hours of each shop for that day.
For the time being, we manually update store opening hours when we spot changes on social media. We are however considering linking the shop hours to Google pages but would like to ask retailers about this first.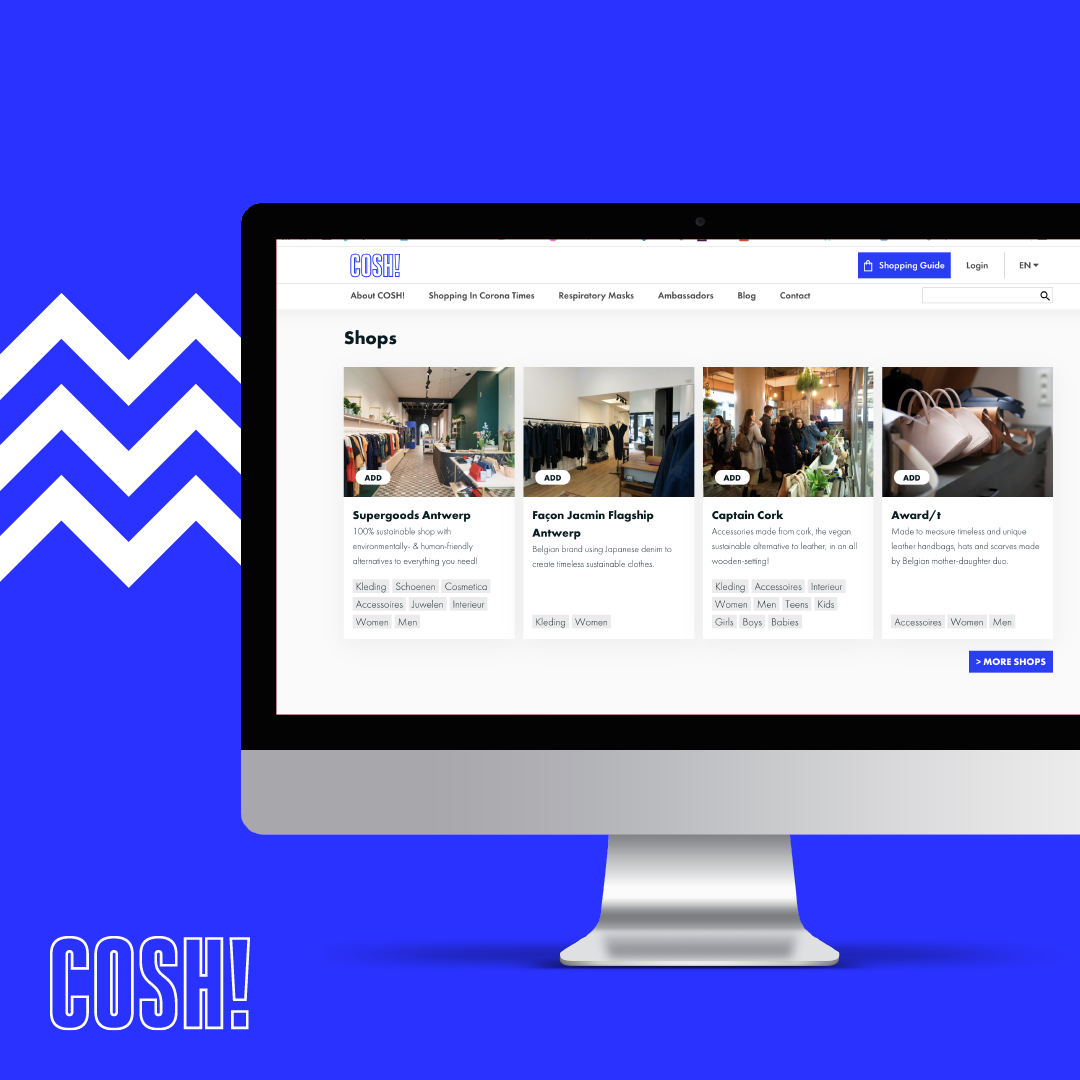 More of a focus on stores in general
What's new on COSH!? More of a focus on stores…. We were planning to do this from the start but needed some time to scale-up first to finance future developments. We are going to start focusing more and more on shops instead of brands. The random rotation of the member shops on the homepage is just the first step in this process. The second platform with upgraded site speed will be released at the end of the month, and it will give you, the customer, the option to search by store or by brand in the city or region of your choice.
Retailers
As a retailer, when you join COSH! you become part of a reliable network of sustainable fashion brands and retailers. It allows you to attract new customers looking for more sustainable clothing. COSH! networks for you and carries out social and online advertising campaigns. COSH! also helps you attract customers from outside of your area: sustainable shoppers who are planning a tourist shopping trip can discover new stores via their tailor-made COSH! shopping route. As a retailer, COSH! saves you money and time.
COSH! is an independent partner that carries out extensive sustainability brand analyses. No more discussions about what is sustainable and what isn't: COSH! allows consumers to easily find out how brands are being sustainable.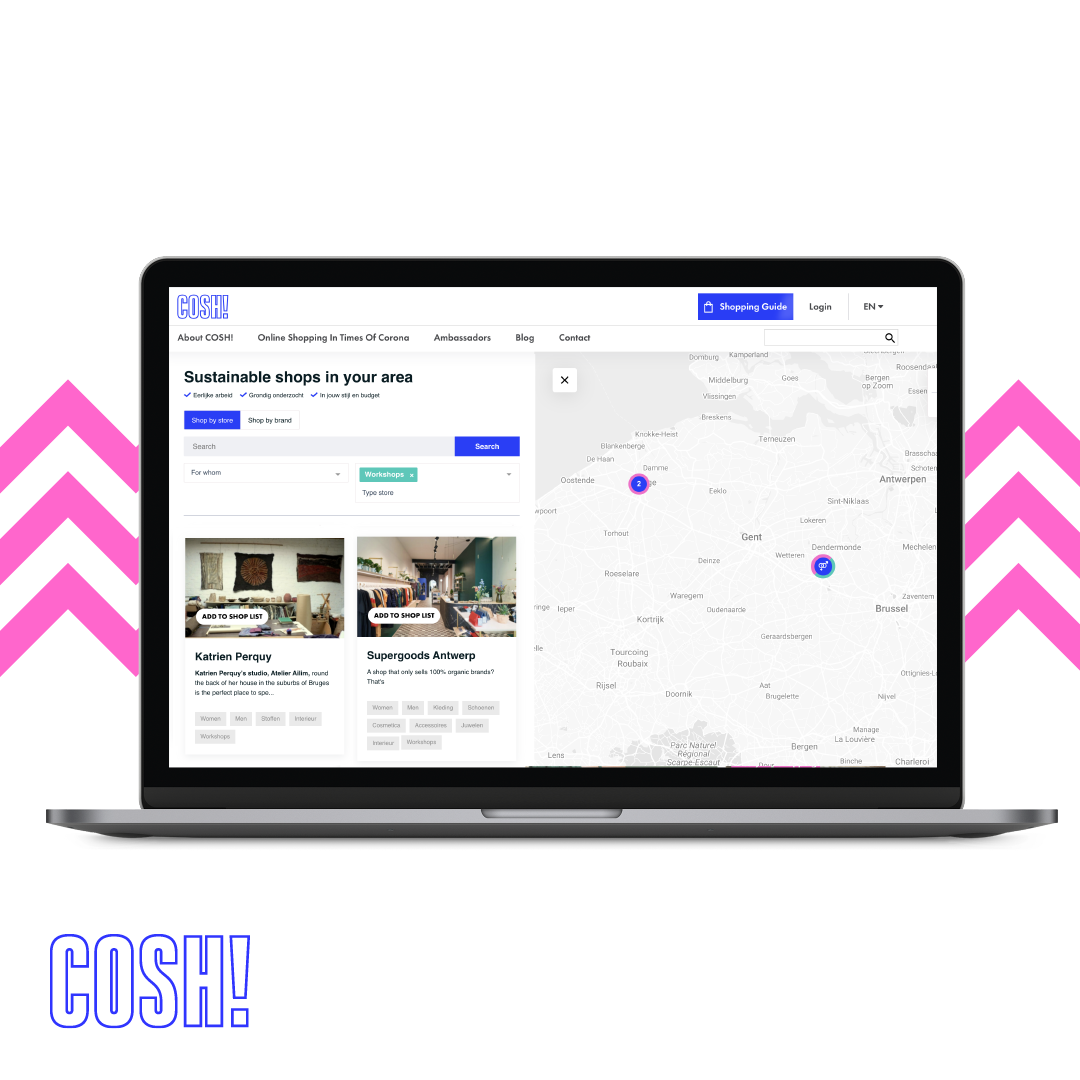 Developing a sustainable lifestyle through workshops
Switching to a sustainable lifestyle or more sustainable activities doesn't just happen overnight. There's so much to learn and you can do this through lectures, workshops and more recently through webinars.
COSH! now also lists workshops from various inspiring entrepreneurs hosting sustainable lifestyle workshops in your area. Some of our member stores also organise workshops in their shops, such as Supergoods, so these are also now listed under workshops.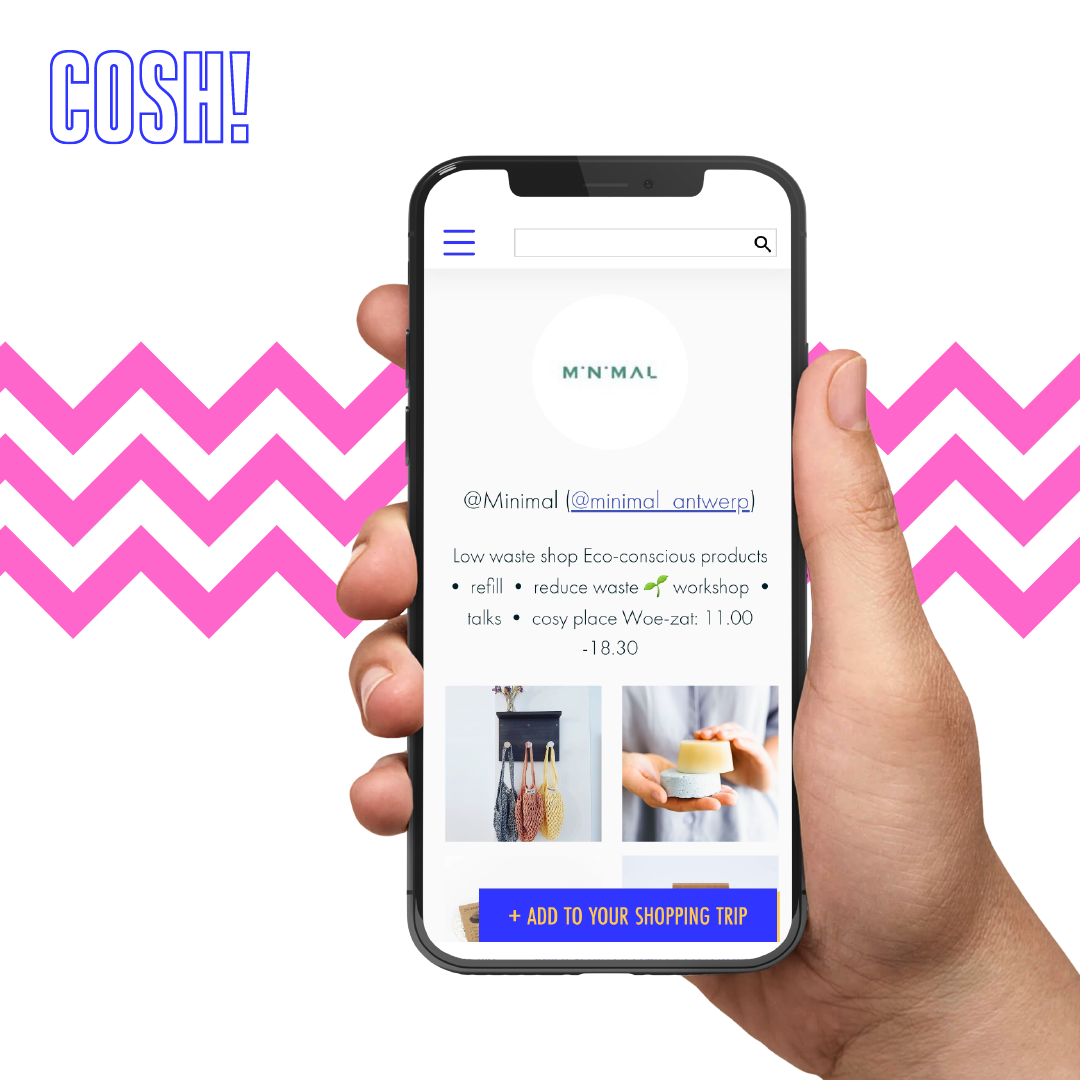 Instagram reflects stores' shopping experiences
One of the main reasons why consumers still choose to shop in person is the shopping experience. Each store has its own vibe, created through its interior, the selection of clothing, the styling services, the branding of the store and the customer service. Many stores order from the same brands, but select different items within these brand's collections. To more accurately reflect the style of each member store and the selection of products they hold, we have now added their instagram page to their COSH! page so consumers can browse through the photos and decide if it suits them.
Do you like this feature?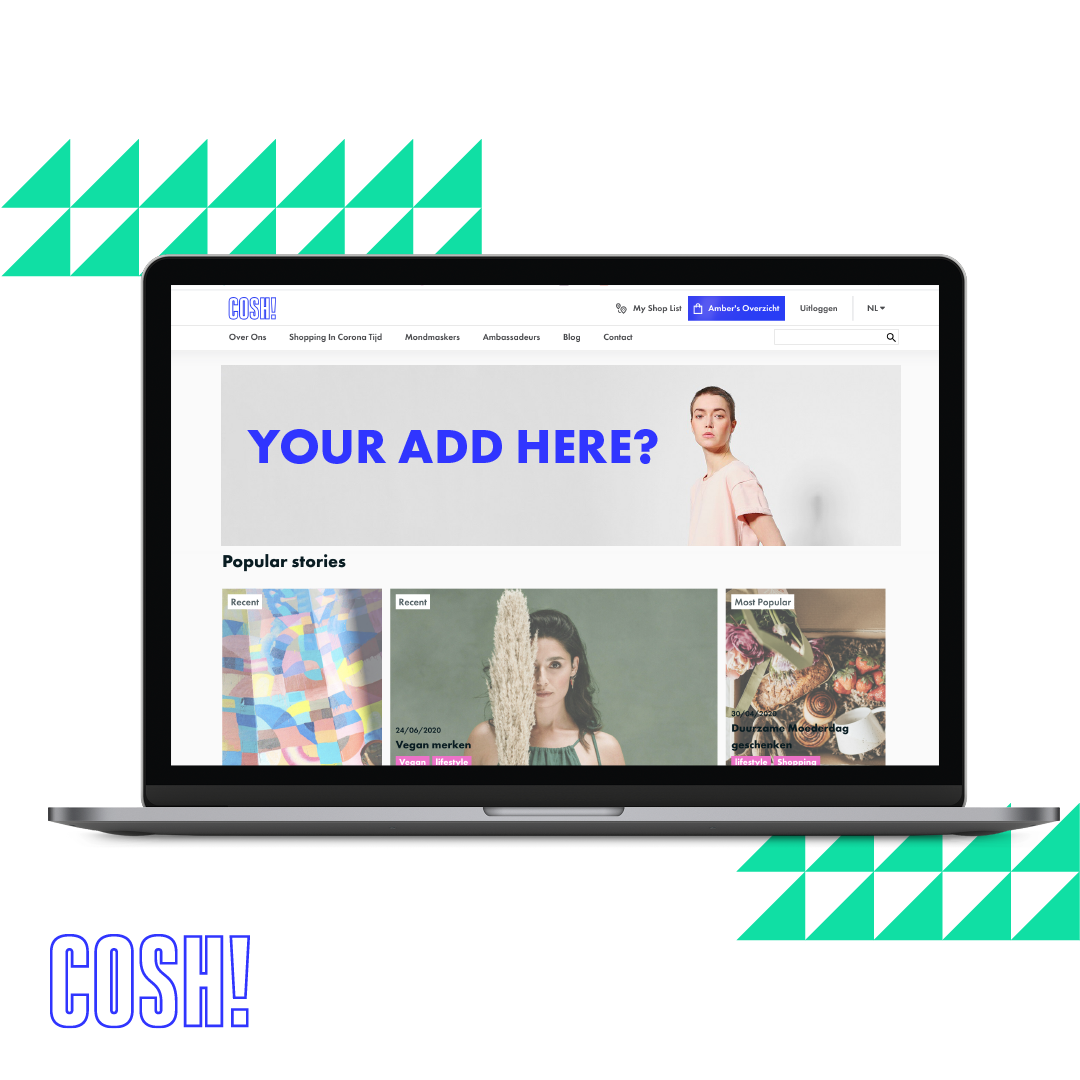 Advertising to compensate for the decline in general retail sales due to lockdown and COVID-

19

measures
Do you know what else is new on COSH?! Retailers are having a tough time due to corona. If they don't have a smooth webshop, or active social media to push their sales then they are likely struggling. On the consumer side, corona seems to have given people a boost and more people are committing to a sustainable lifestyle. To us, it's very obvious in the exponential growth in the number of COSH! visitors. More and more people are looking for sustainable lifestyle solutions. This is good motivation for us here at COSH! to continue despite the temporary decline in new retailers signing on during lockdown.
This is why since July, we have incorporated ads into our platform for companies that are not fashion brands nor retailers but that are fully aligned with our values. Curious who they might be? They are displayed and rotate on every page so head to COSH! and every time you refresh or go on to a new page, you will see a different ad. Don't worry though, we don't track or share data with the advertisers. If you click on the ad then you will get more information about the ad on COSH! but you will not be directed onto another website. This way you can easily keep on shopping on COSH!.
Curious? Go check out our new homepage https://cosh.eco/en/. Or use the link in bio!
Moved login
*coming August 1st*
Ok we know, it was a hassle logging on to our platform. We had it that way so that you could tailor a shopping route on your computer and then later log in to your account using the same details on your phone when you were ready to start shopping.
From now on, you no longer need to login to find brands or stores near you or in your chosen shopping city. You'll only need to log in when you want to create and save a shopping route. This might seem like an easy change but actually our entire website has had to be replaced. All of the web encoding has been changed to speed up the website and to move the login to later in the user experience. This also helps shine the spotlight on shops more.
As a website visitor, you will still see many similarities with the previous website so the user experience remains similar despite it being a completely new platform.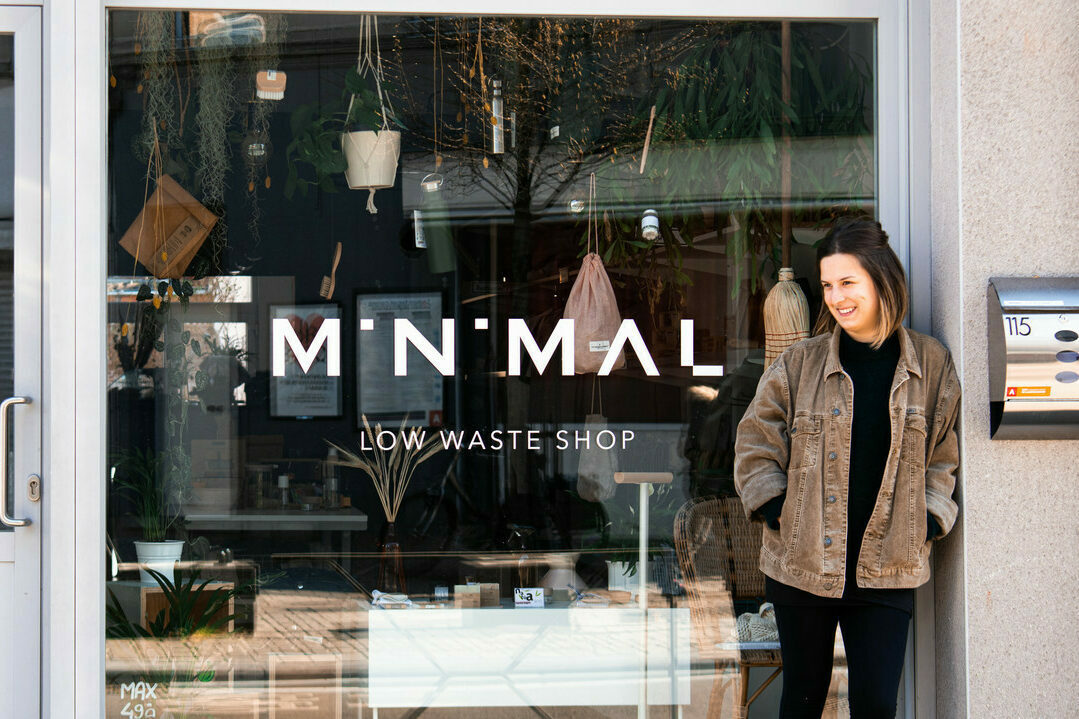 Cosmetics, Jewerly, and
2

nd Hand

In recent months, COSH! has transitioned from being a fashion platform to a sustainable lifestyle platform. We've added eco-friendly and vegan cosmetics like Clothilde, Druantia & Ellis Gijsen while developing screening methods for jewellery. Low-waste stores like Kudzu and M.n.mal and the most organic hairdresser have also joined COSH!. In line with our 2020 plan, we have second-hand stores joining COSH!. Head over to COSH! and discover the ones that are already there!