Hemp is often praised in the sustainable fashion industry as a very sustainable and eco-friendly fibre. The natural fabric is popping up in summer collections of various ecological clothing brands. No surprise, since it is an airy material and thus ideal for summer tops and shirts. That's why we, at COSH!, thought it was about time to look into the environmental impact of hemp!
What are the environmental benefits of hemp?
In a previous article we already told you more about the hemp plant and the production of hemp as a textile. In this article, we would like to show you the environmental advantages and disadvantages of hemp.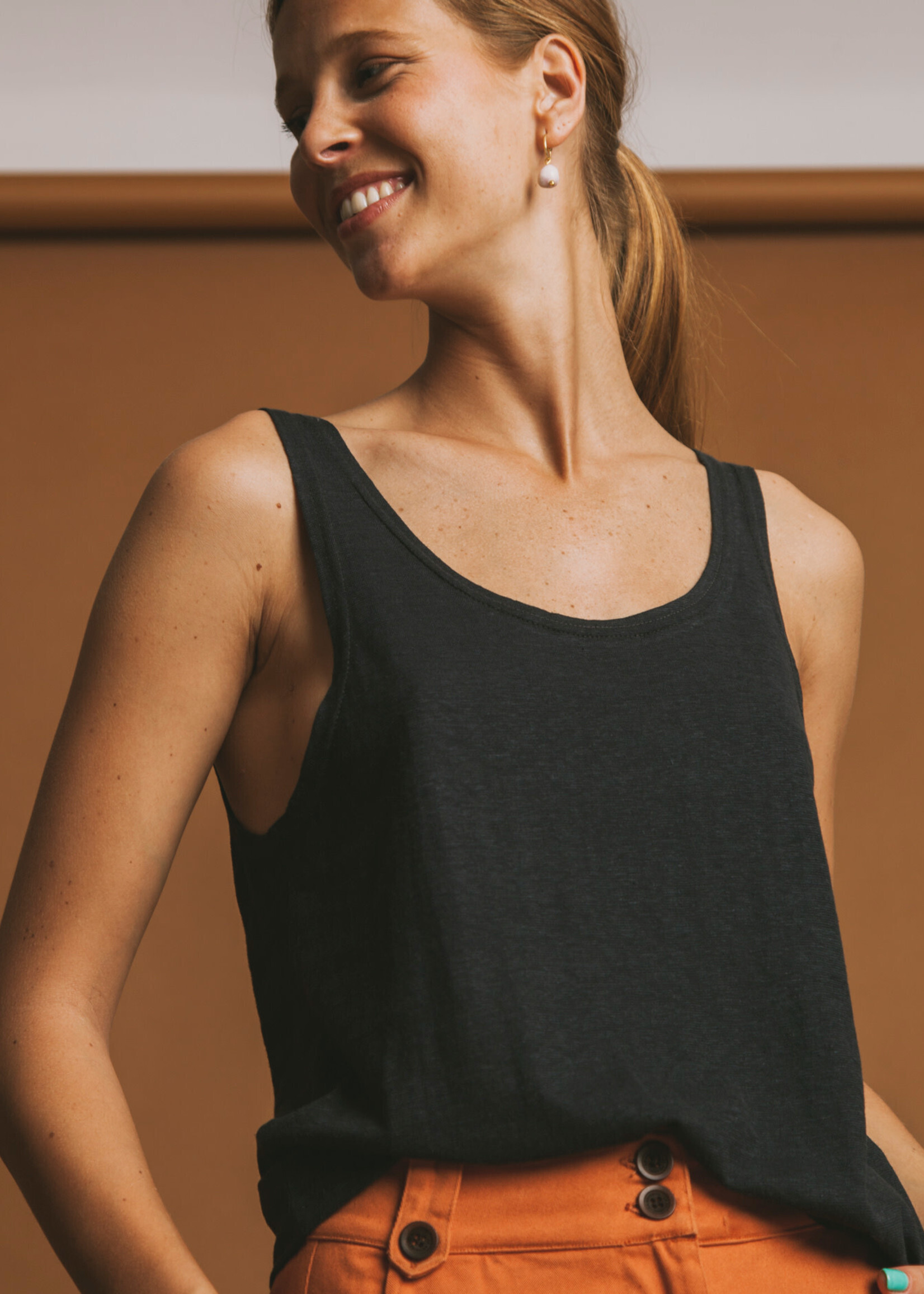 1

. Few pests/​diseases so less pesticides needed

Hemp is a crop with few diseases and pests. Provided that the crop emerges quickly and high plant density, weeds are quickly suppressed. When sowing, one should pay attention that the seed is covered sufficiently to avoid bird damage.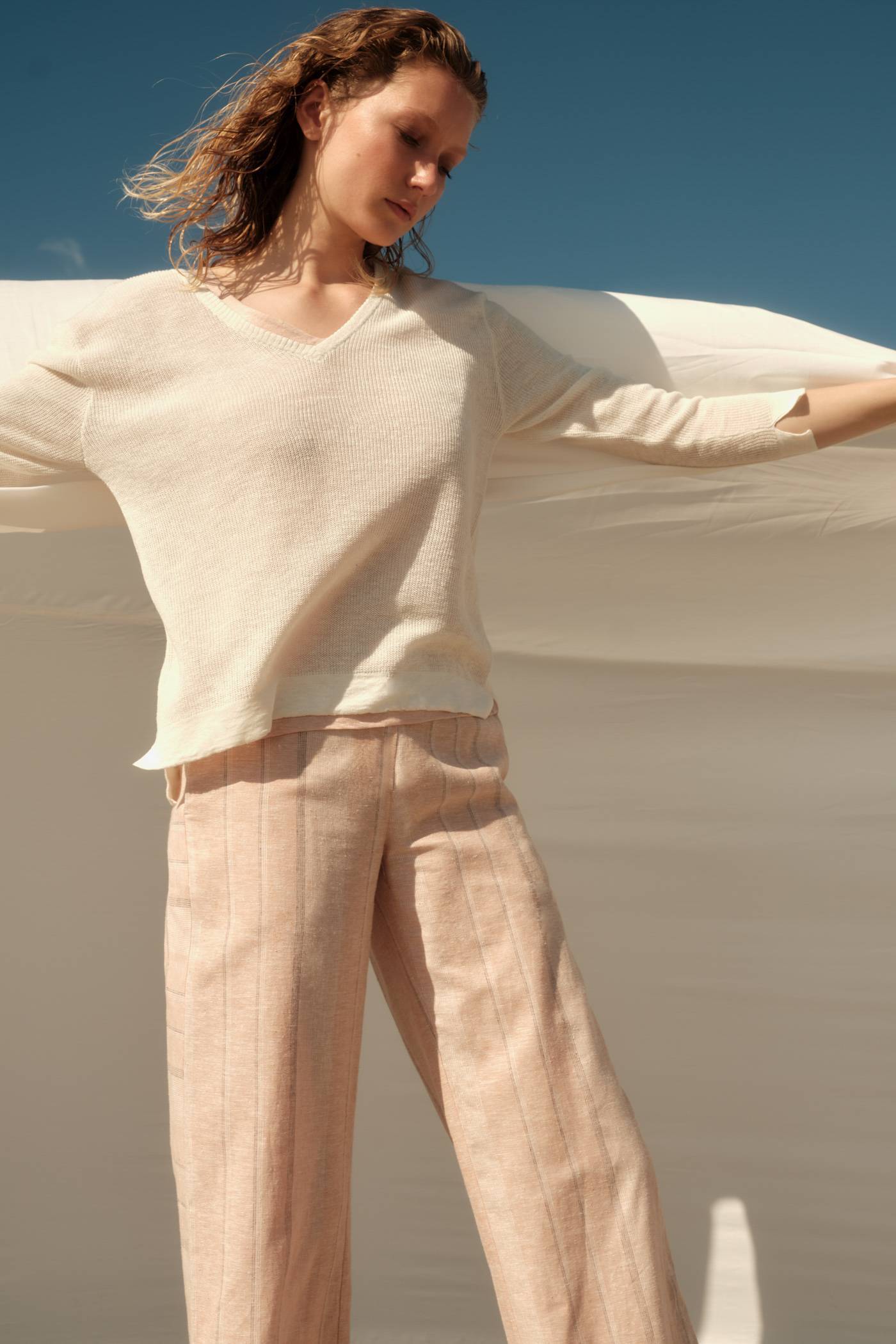 2

. Greenhouse gases

&

CO

2

storage in the soil

Hemp is a CO2 negative material, it stores more CO2 than it emits. Its production requires few pesticides and herbicides and it releases few toxins into the soil and the wider ecosystem. It also improves soil quality. The disadvantage is that hemp production requires more nitrogen than cotton production. It does improve soil structure (Snauwart and Ghekiere, 2011).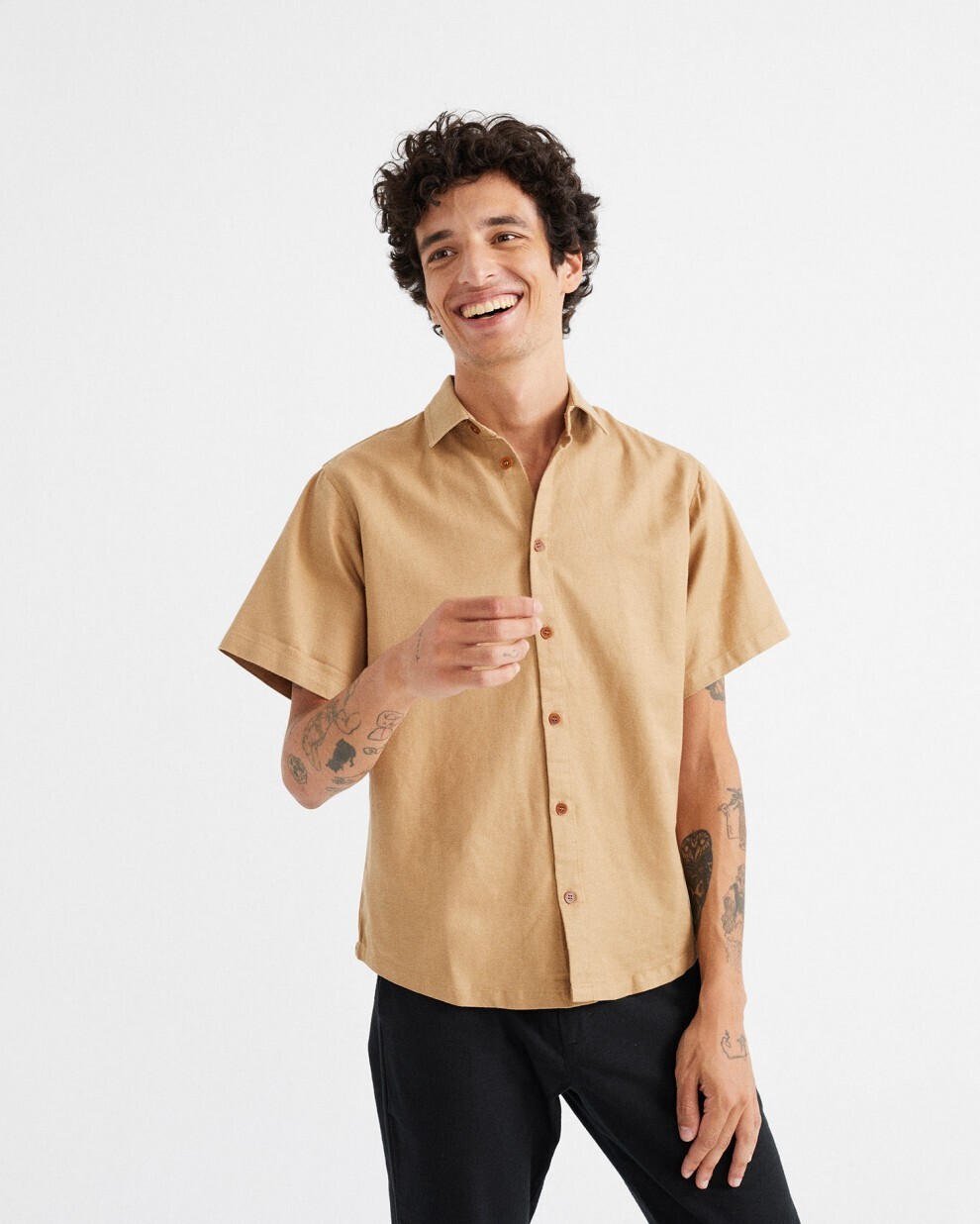 3

. Little water and land required

According to the Higg Index, a database that calculates the environmental impact of materials, 4.23 litres of H2Oe are required to produce hemp and 57.1 litres of H2Oe for the same amount of cotton. However, almost half as much land is needed to grow that kilo of hemp because the plants grow so close together. Per ha, hemp yields 1200 – 2000 kilos of fibre, whereas cotton yields 300‑1100 kilos.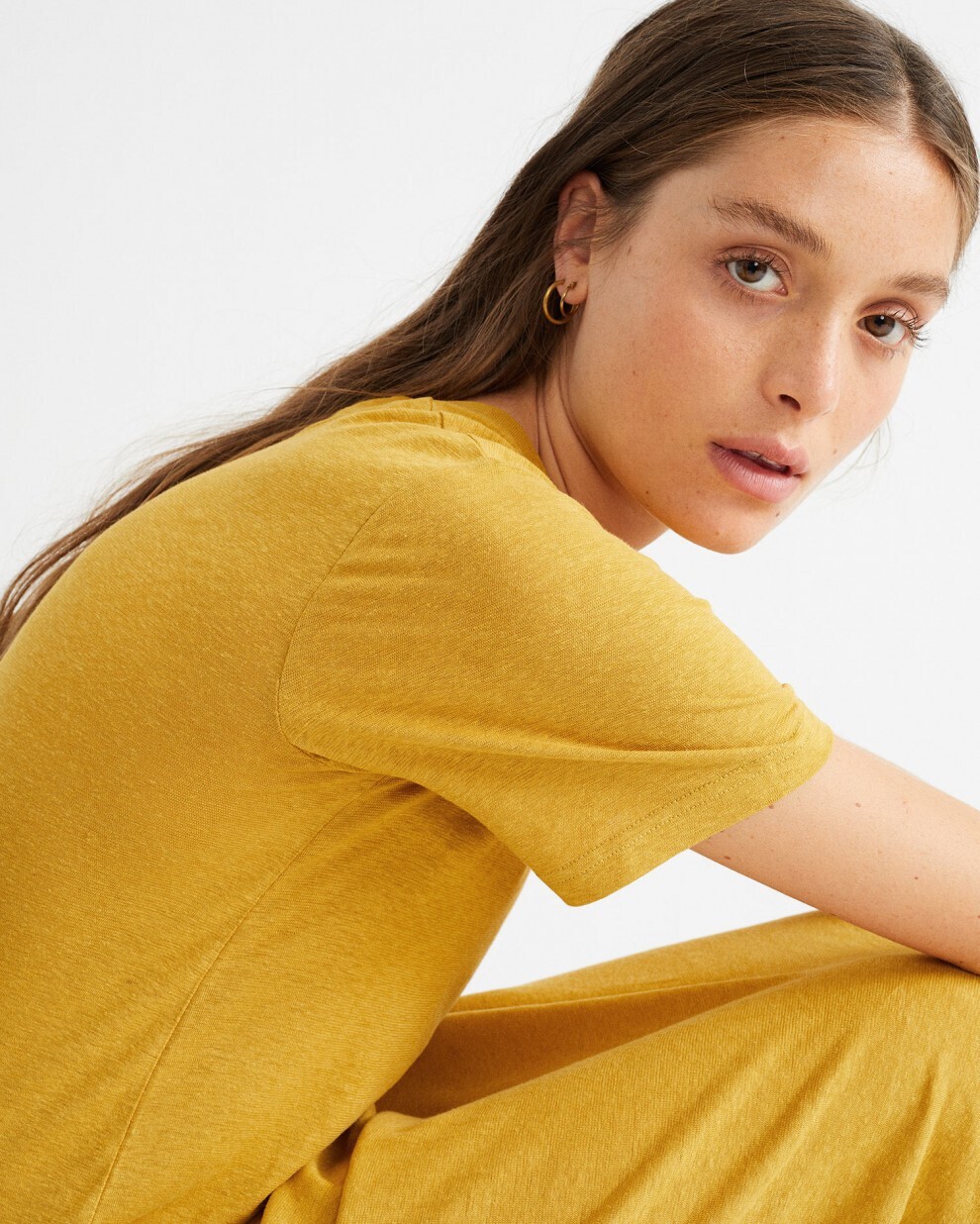 4

. Can grow in different climates

Hemp can grow in both hot and cold climates and because it also thrives in dry areas, where other crops have difficulty growing, it can be considered a robust alternative crop in the context of climate change.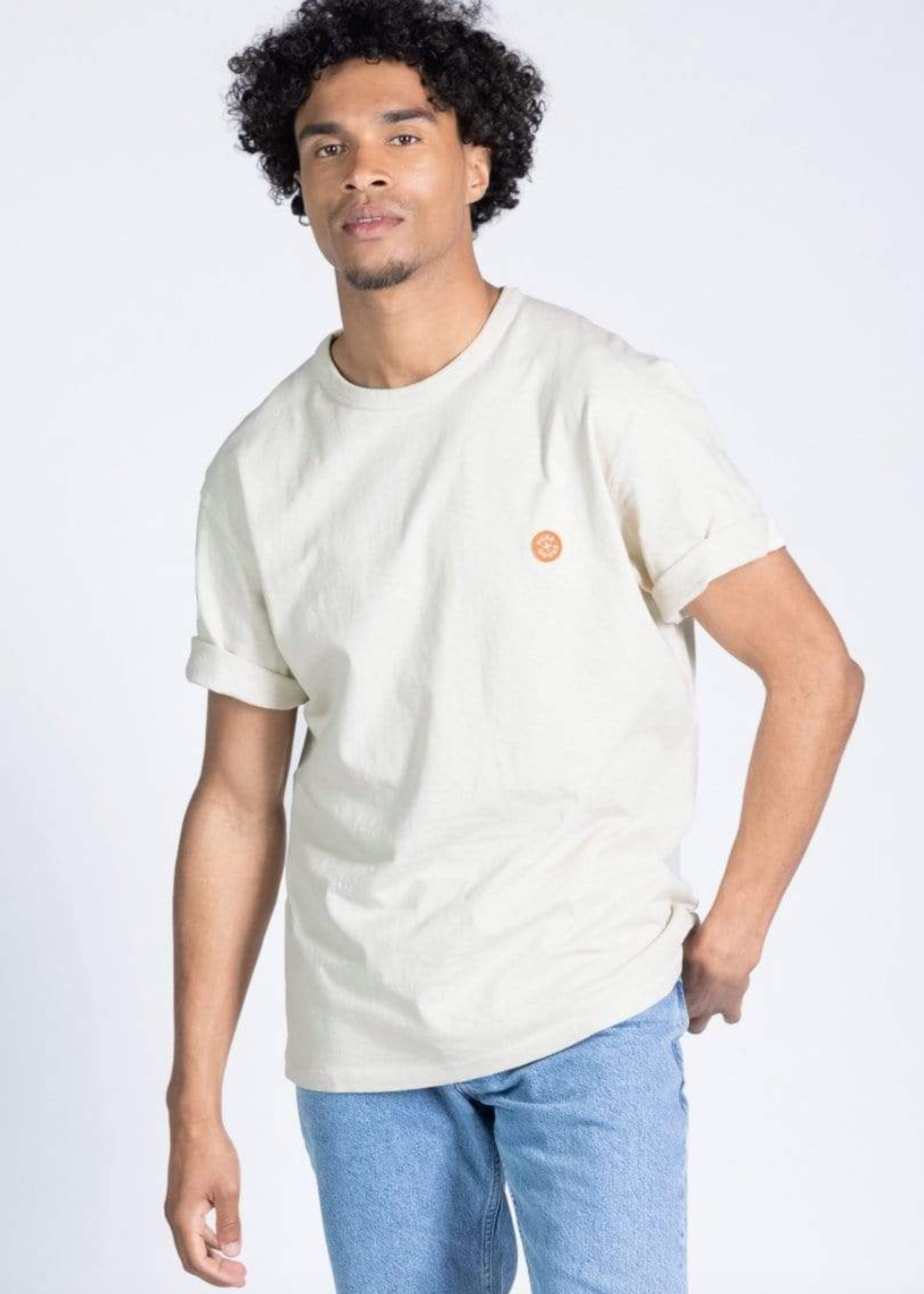 5

. Hemp is a biodegradable fibre

In terms of circularity, it is good that hemp is biodegradable, but it is more difficult to recycle. When hemp is mixed with, for example, cotton to make a softer fabric, the textile fibres are difficult to separate and recycle.
The less eco-friendly side of hemp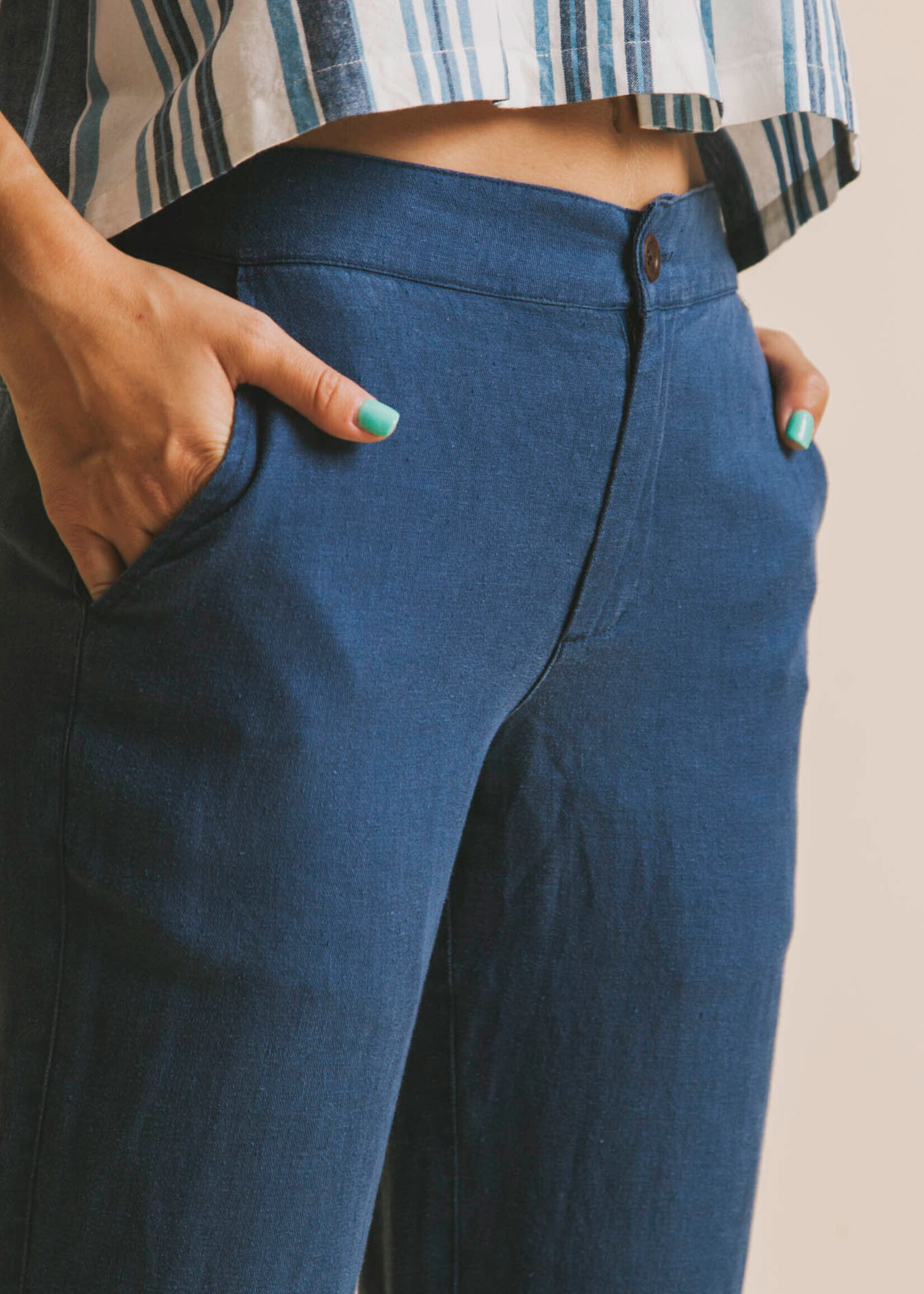 Meer fossiele brandstoffen nodig
On the other hand, the use of fossil fuels and the energy consumption of hemp are considerably higher than for cotton. This is because bast fibres are relatively expensive to produce and spinning is an energy-intensive process. Initially, the fibres extracted from hemp are coarse, so softening them requires an often energy-consuming process.
Hemp is a tremendously strong and sustainable fabric because it is resistant to mildew, mould, pests such as moths and even ultraviolet light. Hemp becomes softer with every wash and the fibres do not break down, even after dozens of washes. So if you buy a product made of hemp, it will last a long time.
How to recognise truly sustainable and ethical hemp?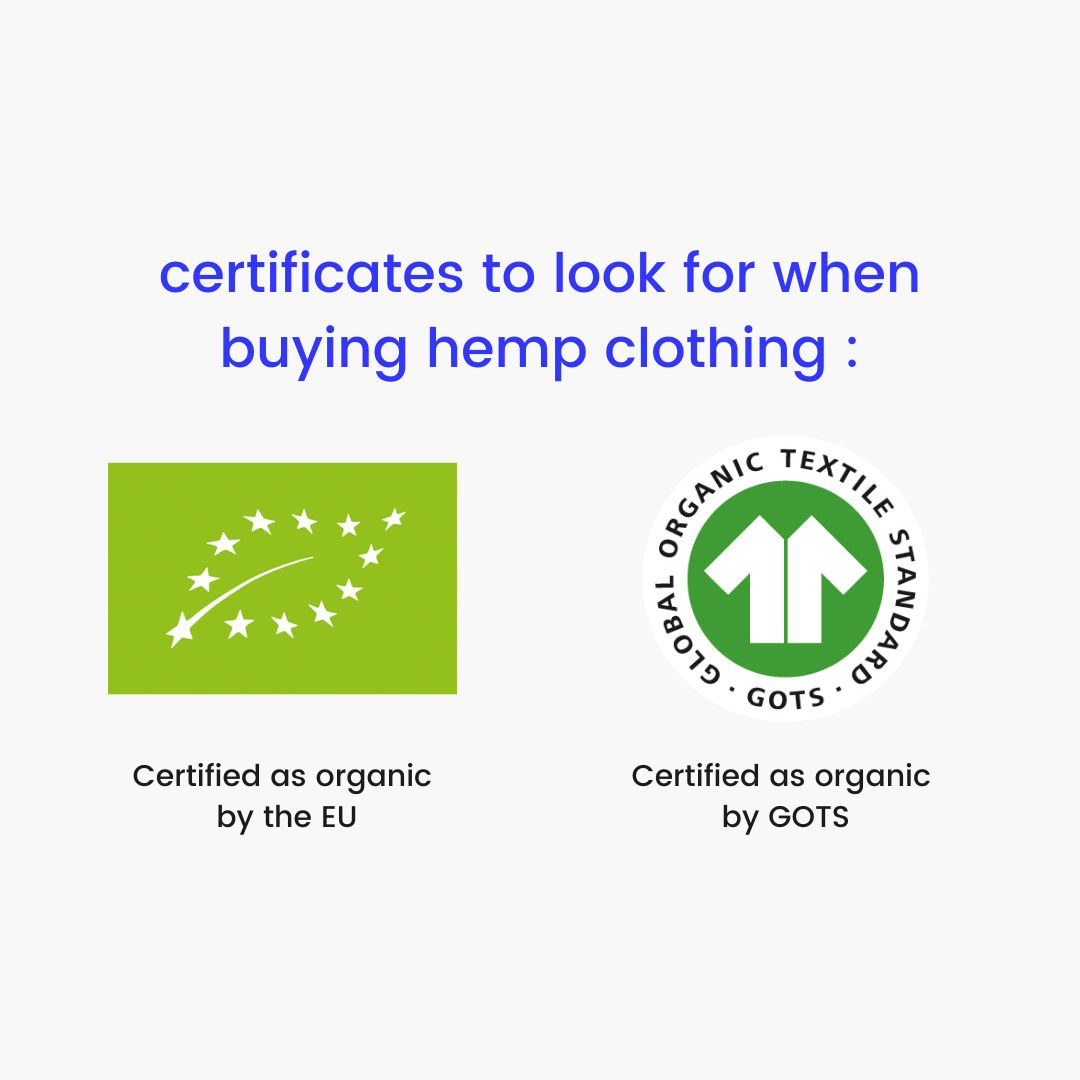 Organic hemp: which are the good certificates?
The use of plant protection products and fertilisers in hemp cultivation is limited, making the crop very suitable for organic cultivation. There is no difference in fibre quality between organic and non-organic hemp.


The requirements for organic natural fibre cultivation are laid down in European rules. No synthetic crop protection agents, genetically modified organisms or artificial fertiliser may be used in the cultivation. EU certified organic hemp can be recognised by a (green) logo in the form of a leaf. The most important certificate for organic hemp to look out for is the Global Organic Textile Standard (GOTS). The GOTS sets environmental requirements for the processing of the fibre into garments and also takes into account the working conditions and fair wages in the production phase.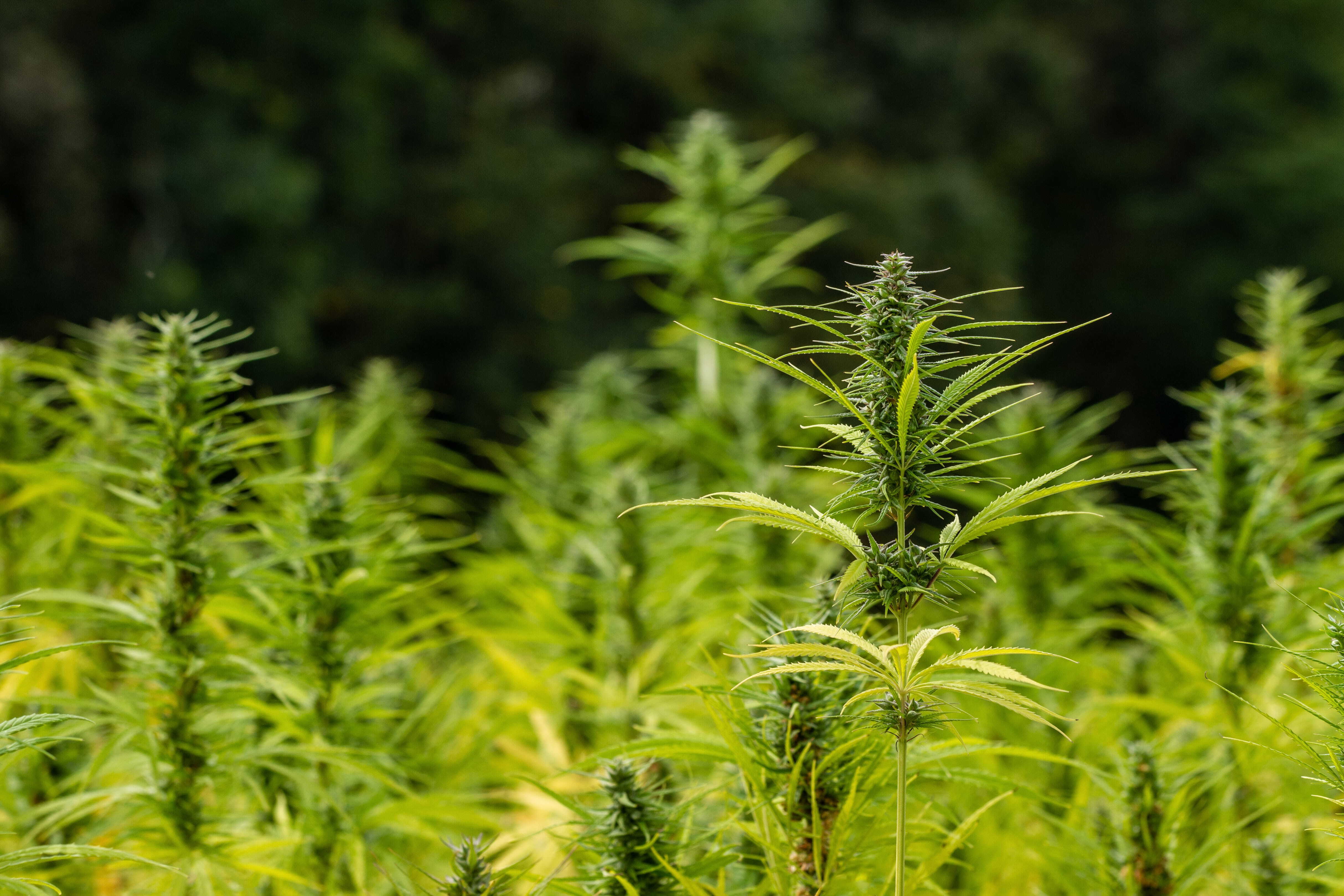 Can hemp for textiles also be grown in Europe?
Hemp belongs to a different plant family than flax and other common agricultural crops. Therefore it fits ideally in the cultivation rotation of Flemish companies and contributes to the expansion of the necessary crop diversity.. In ​'Eigen kweek' (2020), HOGENT investigated how the fibre quality of hemp can be controlled for high-quality textile applications. The cultivation of hemp for textile applications is in great demand in Flanders by the flax processing industry such as the weaving sector. They are interested in the locally grown quality hemp fibre, similar to the local flax fibre.

At the end of the study, a number of recommendations were made. According to this research, hemp grown for fibre in summer seems promising in the context of climate change. Hemp as a winter crop produced little stem mass. It is also said that field-rooting and mechanical fibre extraction on flax sowing line give full fibre yield and quality. Therefore, they recommend that method for a local hemp-for-textile chain in the short term. Alexandra De Raeve coordinated the ​'Home grown' research and says that the biggest challenges at the moment are optimising the retting process and spinning the short fibre fraction into fine yarns.
"These short fibres could then be a suitable alternative to cotton, which has a high environmental impact, and thus have a major impact on making the clothing sector more sustainable, where the majority of the fibres used are still cotton." For the processing of the long fibres, large investments in hemp spinning mills are planned in northern France. De Raeve: ​"Locally grown fibres are no guarantee of locally produced clothing, but it is a step in the right direction. Apparel remains labour-intensive and therefore expensive in Belgium. A lot will depend on the consumer.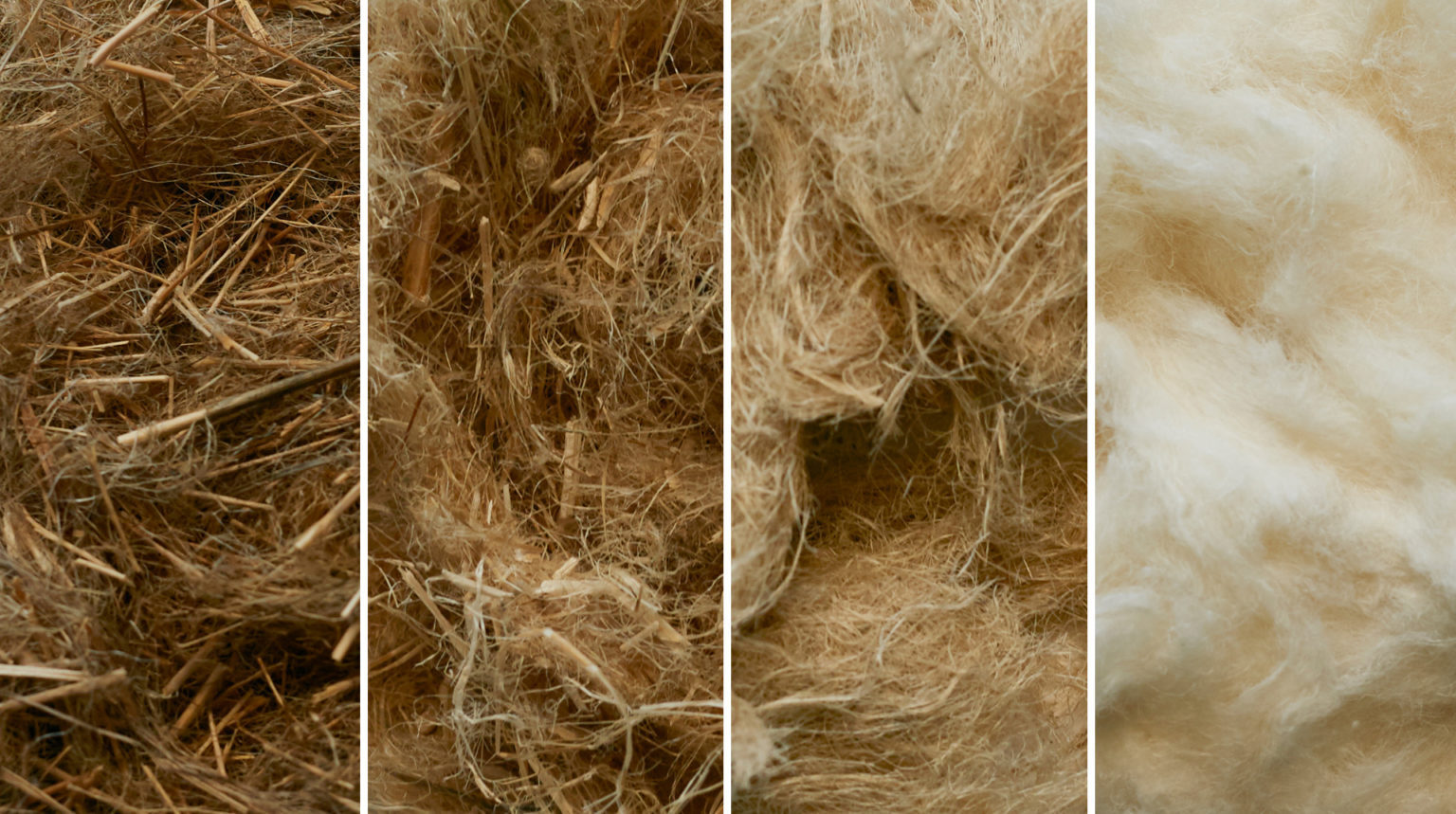 New innoavtions for the production of textile
There are a number of new innovations on the market for the sustainable production of textiles from hemp. Circular Systems Agraloop Bio-refinery is developing BioFibre™ to make fibres from food crop residues. Oilseed hemp is one of the raw materials that can be used for these fibres.
The 9Fiber patented solution™ converts waste material from cannabis and industrial hemp into usable bast fibres for use in a variety of products, including fibres for the textile industry.
Eko-Terre launched by Logistik Unicorp, announced that it will introduce a line of textile fibres and fabrics based on hemp. The main objective is to process hemp straw into fibre together with conventional and organic growers in Canada and the United States.
TS Designs, a US-based t‑shirt company, wants to create a fully transparent and traceable hemp supply chain in the US for hemp processing for textiles.

As you can see there are many good initiatives that are in their beginning stages. Something we definitely encourage at COSH!.
Is Hemp the material of the future?
Hemp can be a solution that leads to a more sustainable clothing industry. The hemp plant grows quickly, produces a lot of fibres and needs little land, little water and few pesticides. In view of climate change, this means that the plant can grow in many parts of the world and has a small impact on the environment due to its low water use and small amount of toxins needed. Hemp could be a good alternative or at least a complement to cotton when produced on a large scale. Then the prices of hemp will also drop immediately.
The working conditions under which hemp textiles are produced are largely unknown; much of the hemp now used in clothing comes from China. The local cultivation of hemp can be a solution for this. You can read more about hemp production here.

Would you like to discover sustainable clothing made from hemp and other materials? Then be sure to take a look at our shopping guide and discover sustainable clothing in your style and within your budget, in your area!
Also read:
Which impact does cotton have on humankind and the environment?