Some people prefer the warmth of wool, others like breathable cotton blouses or dainty silk dresses. But what is the environmental impact of your material choice?
COSH! started an extensive sustainable materials study, which we will launch throughout 2021 for each material. Discover below a short introduction of the different types of materials, and how we went about it.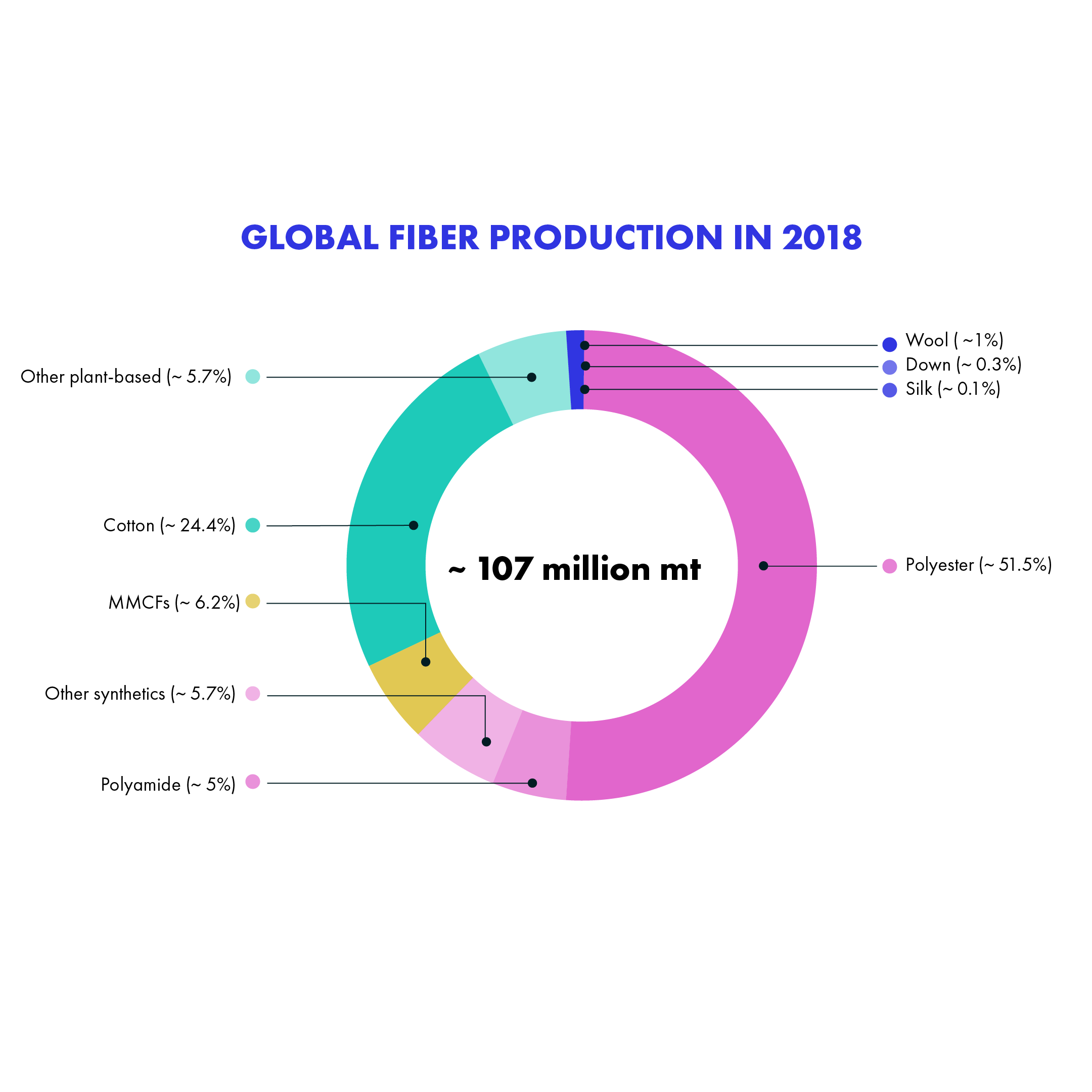 Overview of all textile fibers
A total of 107 million tons of clothing fibers are produced annually around the world. A comparison: in terms of weight, this is double the annual production of all fish & shellfish worldwide or as much as 2 million elephants combined.
The most widely used material worldwide is polyester, followed by cotton and man-made fibers made from cellulose (MMCFs) including viscose, rayon, lyocell, modal, cupro. These fibers are man-made, but have a plant origin.
What is the difference between plant, animal and synthetic fibers?
Natural materials such as wool, linen and cotton have an origin from nature. Synthetic materials including polyamide, polyester and elastane do not have an origin from nature, but are made from fossil fuels, so they emit large amounts of CO2 into the air. These synthetic materials will therefore contain microplastics, which will be harmful to humans and animals when broken down. But you also have ​"plant-based" man-made materials. This category includes plant-based fibers that are heavily mechanically or chemically processed to make fibers for fabrics.
These plant-based materials, such as bamboo, viscose, and lyocell may have a natural origin, but that does not make them all necessarily more sustainable. They often use large amounts of water, fertilizers and pesticides for cultivation, as well as for processing. Discover our explanation for each material to separate the wheat from the chaff.

How to compare materials?
To compare the pollution of materials, many companies use the Higg Index. This well-known comparison tool for materials provides an overview of the CO2 emissions, water consumption and chemicals of each material. Through the Higg Index, large companies can start comparing materials and choose the most sustainable option. However, the reliability of the Higg Index is under fire as they are accused of greenwashing. Read more about that in this blog.
The Higg Index only considers individual fibers in their life cycle analyses. The Higg Index does not take into account blends of fabrics or the possibility of recycling afterwards. Currently, large chains too often mix various ​'more sustainable' materials together, but this is not always advantageous. When choosing materials, however, it is crucial to also take into account the recycling options afterwards. In our research, we take into account the existing and actively working recycling options.
COSH

! went to investigate

Does organic cotton really require more water? Is recycled polyester good for the environment? What about the animal welfare of the different wool types? And what is their impact on people and the environment?

The COSH! community still had a lot of questions and we went to investigate. We read academic publications, had conversations with non-profit organizations, talked to companies, wool farmers, and interviewed experts at home and abroad. In doing so, we tried to capture a full picture of the industry and understand its nuances. We were surprised, inspired and amazed.

Curious about our discoveries? We'd love to share them with you in the coming weeks!

Want to stay up to date with the latest publications? Sign up for our newsletter!