We're so happy to announce our online sustainable platform, COSH!, is now expanding to The Netherlands. To celebrate this big step, we hosted an online COSH! community event. Of course, we're starting in the sustainable fashion capital of The Netherlands: Amsterdam! We're very grateful for the collaboration with the Municipality of Amsterdam and we can't wait to share all our plans with you! Curious to discover the key highlights of the launch event? Make sure to read on.
Want to move towards a sustainable fashion industry? Let's collaborate!
We kicked off the event with two powerful women who made this collaboration happen: our COSH! founder Niki de Schryver & Roosmarie Ruigrok, Project leader Circular textile at the Gemeente Amsterdam. They were joined by Magali Heuberger, founder of Het Faire Oosten and Elisa Jansen co-founder of LENA Library.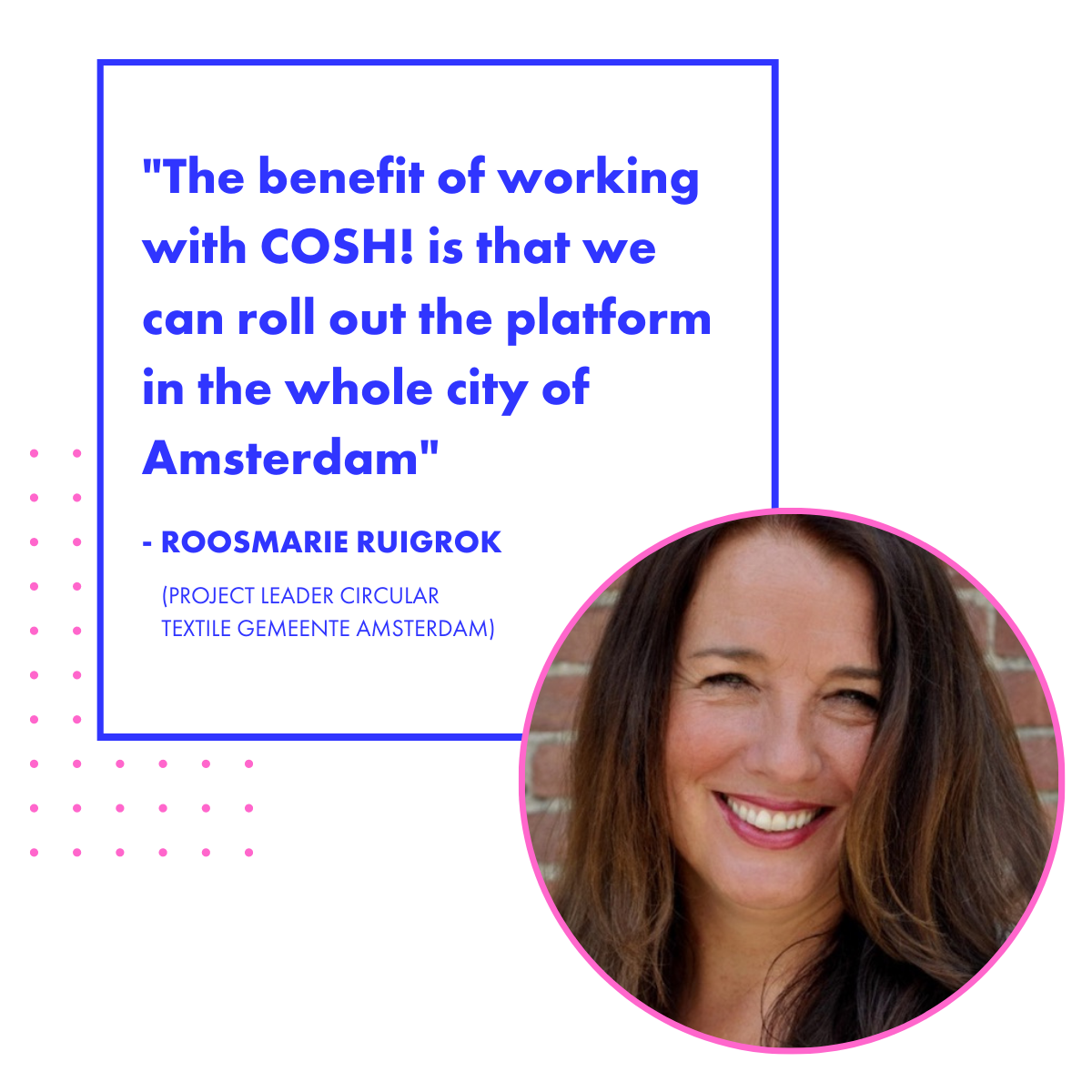 Roosmarie: " When I first started working at the City of Amsterdam I saw that there were already a lot of smaller fashion platforms in the city and a lot of people also reached out to me because they wanted to start a platform in Amsterdam. The benefit of working with COSH! is that we can roll out the platform in the whole city of Amsterdam."
Niki: ​"We truly believe in the power of collaboration. That's also why we're so happy to collaborate with Gemeente Amsterdam. We can only make a change if we all (governments, consumers, retailers and brands) work together towards a sustainable fashion industry. Nowadays smaller retailers often get overshadowed by large fashion chains that spread misleading sustainability claims. By grouping small businesses on our platform we want to offer a counterweight to these big companies."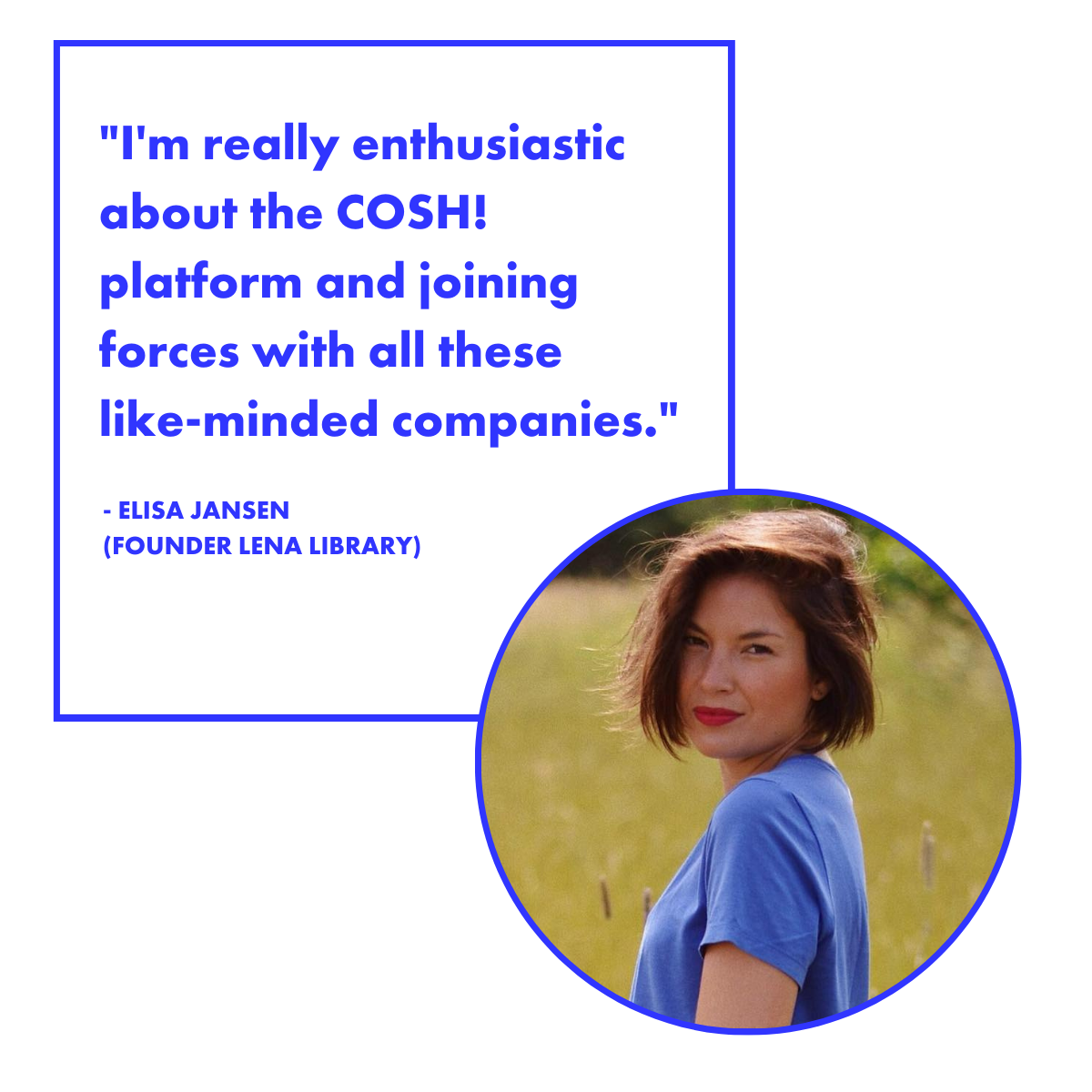 Until now we already welcomed 40 retailers in Amsterdam onto our platform. One of them is Elisa from Lena Library, a clothing library in Amsterdam West. Lena: ​"I'm really enthusiastic about the COSH! platform and joining forces with all these like-minded companies. I think that within the sustainability mission it's really important to work together."
Magali Heuberger from Het Faire Oosten is also one of the first retailers who joined the platform and shared her excitement about COSH! ​"It's really easy to get caught up in your day to day tasks. COSH! helps us to reinforce our mission and be in contact with other people who have the same goal. This keeps me awake and reminds me why I'm doing what I'm doing.
Thorough and objective brand screenings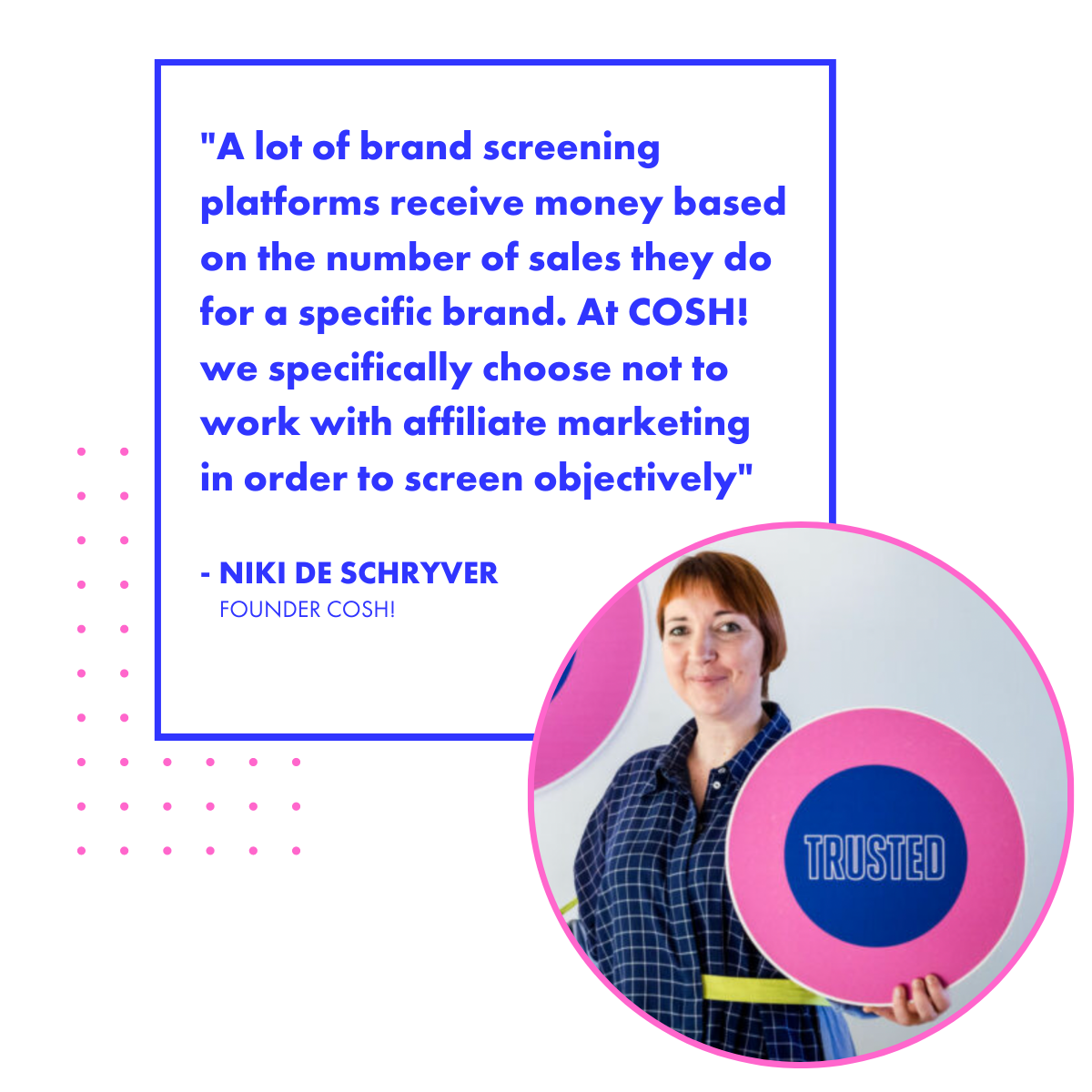 Roosmarie: ​"With Amsterdam, we want to be a front-runner on circular and sustainable fashion. COSH! helps us with that and offers a step-by-step approach to investigate and research how sustainable a retailer really is. Having a reliable platform like COSH! is important to clearly communicate towards our citizens but also towards consumers who are visiting the city."
Niki: ​"At COSH! we don't work with affiliate marketing. A lot of platforms receive money based on the number of sales they do for a specific brand. With us, every retailer pays a yearly membership which includes 1 to 2 brand screenings. If we screen a brand for a Belgian store, this data is also relevant for a store in the Netherlands that sells the same brand. This way, we interconnect data. This makes it a useful platform for the end-consumer but also allows us to screen brands in a trustworthy and objective way.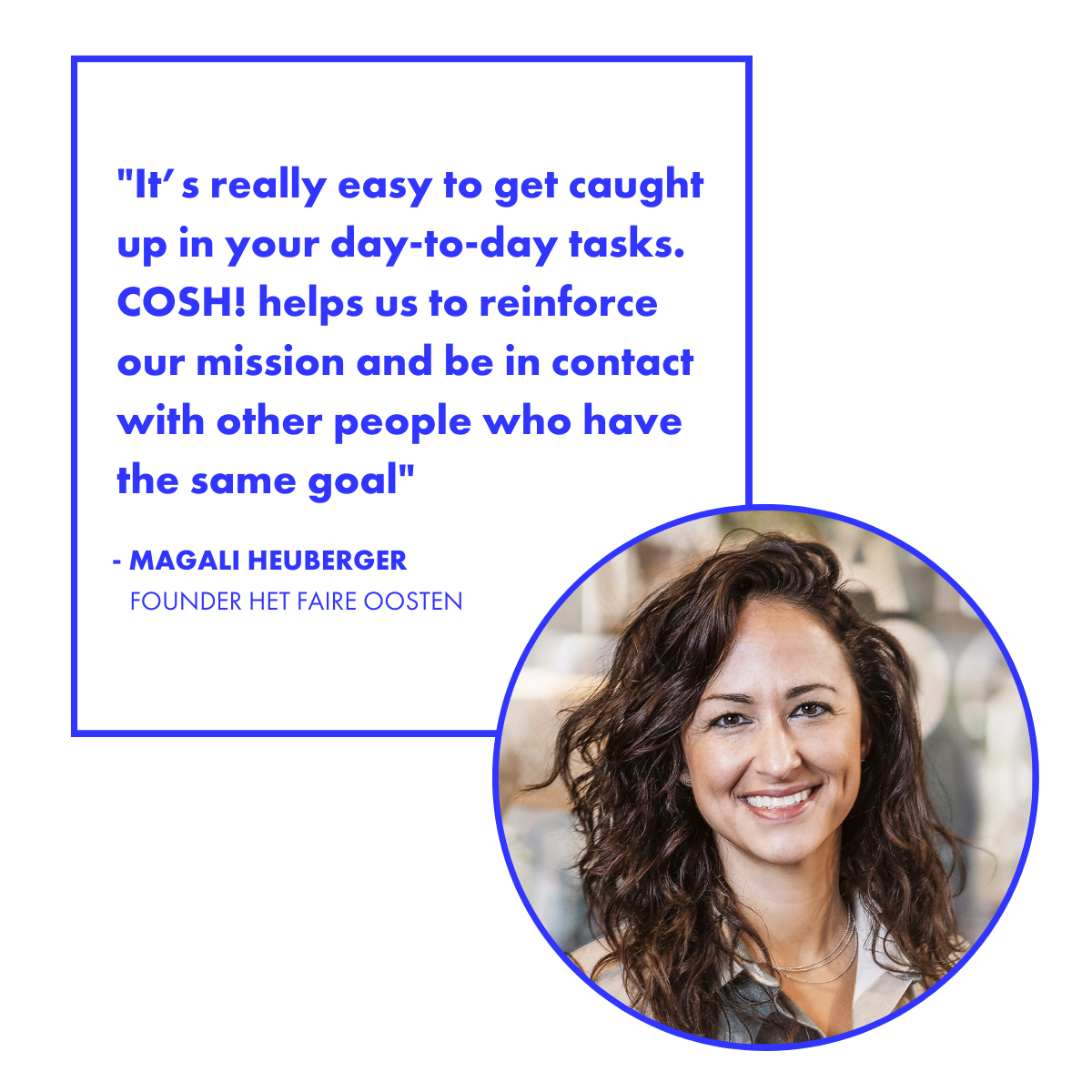 The brand screenings are a useful insight for the retailers and can influence their buying process. Magali: ​"As a retailer, I also want to help brands to make more sustainable choices by asking critical questions to the agents. If a brand starts to use more sustainable materials one year and lowers this amount the next year, I ask them why. I inform them on what I've read and connect them with my network. For me, it makes sense to do that. Even if it feels like a drop in the ocean sometimes."
Watch the recording of our panel here:
Do you want to join the COSH! community with your store? Contact us!
Discover COSH! in Amsterdam here
Also read