To cele­bra­te our launch in Amster­dam, we are hos­ting an onli­ne webi­nar on Febru­a­ry 9th during Week of the Cir­cu­lar Eco­no­my in The Net­he­lands (Week van de Cir­cu­lai­re Eco­no­mie). During the event you can fol­low a panel on the need of transpa­ren­cy in con­su­mer com­mu­ni­ca­ti­on> After that we let & inspi­ring entre­pre­neurs in Amster­dam tell you their sto­ry. Do you want to dis­co­ver, enga­ge and con­nect with various peo­p­le in the COSH! com­mu­ni­ty? Then this is your chan­ge! The event is open for eve­ry­o­ne. Becau­se we can only move towards a sustai­na­ble fas­hi­on indu­stry if we, con­su­mers, brands, sto­res, jour­na­lists and govern­ments work together!
The agenda for the evening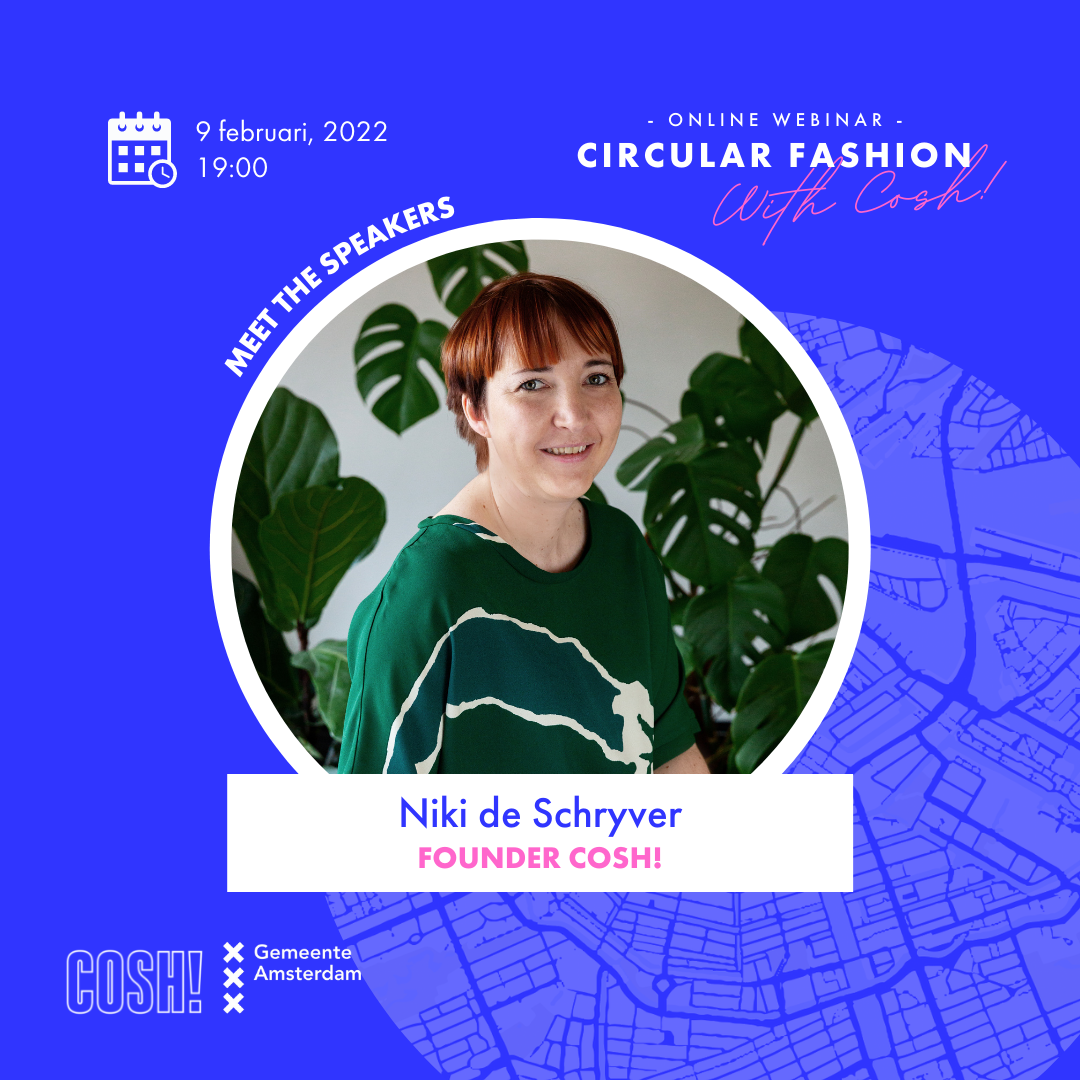 19

h –

19

h

40

: Panel discussion on the need of transparency in consumer communication

To start off, we are hos­ting inte­res­ting panel dis­cus­si­ons and talks with entre­pre­neurs, pio­neers and lea­ders in sustai­na­ble fas­hi­on with:

- Niki de Schry­ver, foun­der COSH! Con­scious Shop­ping Made Easy, Bel­gi­um's num­ber 1 sustai­na­ble fas­hi­on platform.

- Roos­ma­rie Ruig­rok, pro­ject lea­der cir­cu­lar tex­ti­le at the City of Amsterdam.

- Maga­li Heu­ber­ger, foun­der of sustai­na­ble depart­ment sto­re Het Fai­re Oos­ten in Amsterdam-East.

- Eli­sa Jan­sen, foun­der of LENA The Fas­hi­on Libra­ry in Amster­dam, the first clothing libra­ry in the Netherlands.

Mode­ra­tor: Ver­e­na Asser, Com­mu­ni­ty Mana­ger COSH! Netherlands

19

h

45

–

20

h

45

: Inspiring stories told by sustainable fashion entrepreneurs from Amsterdam

After that we want to inspi­re you with sto­ries told by the most sustai­na­ble and esta­blis­hed fas­hi­on entre­pre­neurs from Amster­dam. Check our Inst­agram for an announ­ce­ment of the speakers!
An event by
COSH

! with the support of the city of Amsterdam

Also read:
- WEBI­NAR RECAP PART 1: The power of COSH! for City of Amsterdam
- WEBI­NAR RECAP PART 2: 7 entre­pre­neurs from Amster­dam sha­re their sustai­na­ble journey
- Dis­co­ver sustai­na­ble shops in Amster­dam thanks to COSH!